Matsumotokiyoshi Group
3%・5%・7% Off
・Spend more than JPY10,000 but less than JPY30,000 to get a 3% discount
・Spend more than JPY30,000 but less than JPY50,000 to get a 5% discount
・Spend JPY50,000 or more to get a 7% discount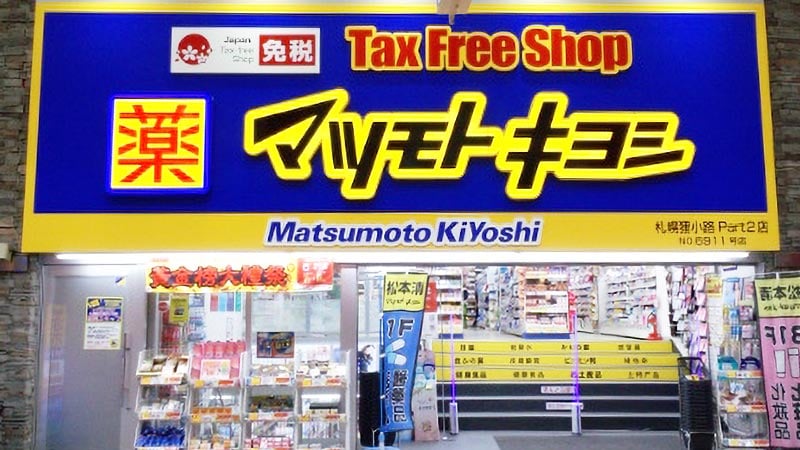 Matsumoto Kiyoshi
Matsumoto Kiyoshi is a drugstore that primarily carries health and beauty products. Specialized staff members are available on a regular basis, so it is possible to receive consultations regarding health and beauty.
There are about 3,000 stores throughout Japan, including major areas, and of them about 1,200 stores are duty-free shops. Staff members who can speak multiple languages, including Chinese, are available in the store, so you don't have to worry about a language barrier.
Free Wi-Fi that can be easily used without an ID or password is installed in the stores, so you can contact family or friends from your home country without having to worry about communication restrictions. Original high quality products that can only be purchased at Matsumoto Kiyoshi stores make the perfect gifts.
For more details:
https://www.matsumotokiyoshi.cn/ (Simplified Chinese)
https://tw.matsumotokiyoshi.net/ (Traditional Chinese)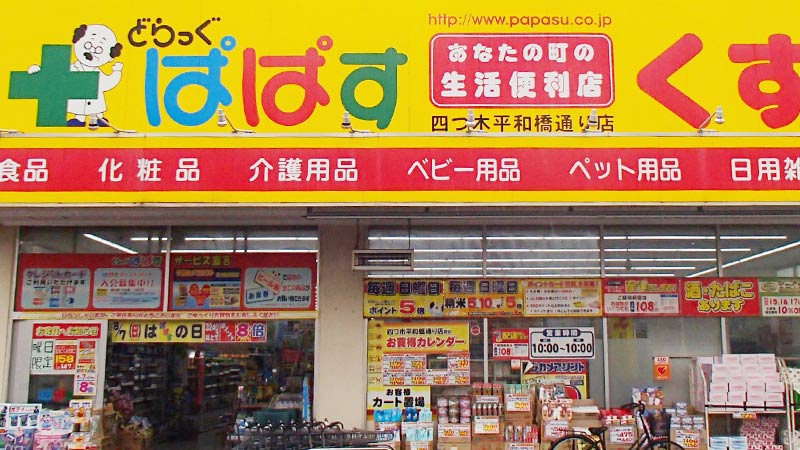 Drug PAPASU
Drug PAPASU carries not only health and beauty products but also food and other daily necessities, making it a drugstore that supports all your daily needs.
A member of the Matsumotokiyoshi Group, Drug PAPASU has about 170 stores throughout the 23 wards of Tokyo, with about 100 of these being duty free shops.
Furthermore, customers can also purchase high-quality original goods that can only be found at Drug PAPASU stores. These make ideal souvenirs for friends or family.
For more details:
https://en.matsumotokiyoshi.net/iyoshi.net/
3%・5%・7% Off
Show the coupon and pay with Visa to get 3%, 5%, and 7% discounts for purchases over 10,000 yen, 30,000 yen, and 50,000 yen, respectively.
Matsumoto Kiyoshi and Drug PAPASU
Spend more than JPY10,000 but less than JPY30,000 to get a 3% discount
Spend more than JPY30,000 but less than JPY50,000 to get a 5% discount

Spend JPY50,000 or more to get a 7% discount
*When checking out, please present the coupon at the cash register and pay with Visa card. 
*The discounts do not apply to some products, including cigarettes, magazines, baby diapers, baby food and counseling cosmetics.
*The coupon cannot be used in combination with other discount offers. 
*The coupon cannot be used in at selected Matsumoto Kiyoshi Outlet stores.
* Pharmaceuticals requiring special guidance and category-1 OTC drugs cannot be sold without a pharmacist being present.
Use the Coupon
When paying, please present the coupon at the cash register and pay with a Visa card.
* Not available at all stores. Please check with the stores for details.
Matsumoto Kiyoshi and Drug PAPASU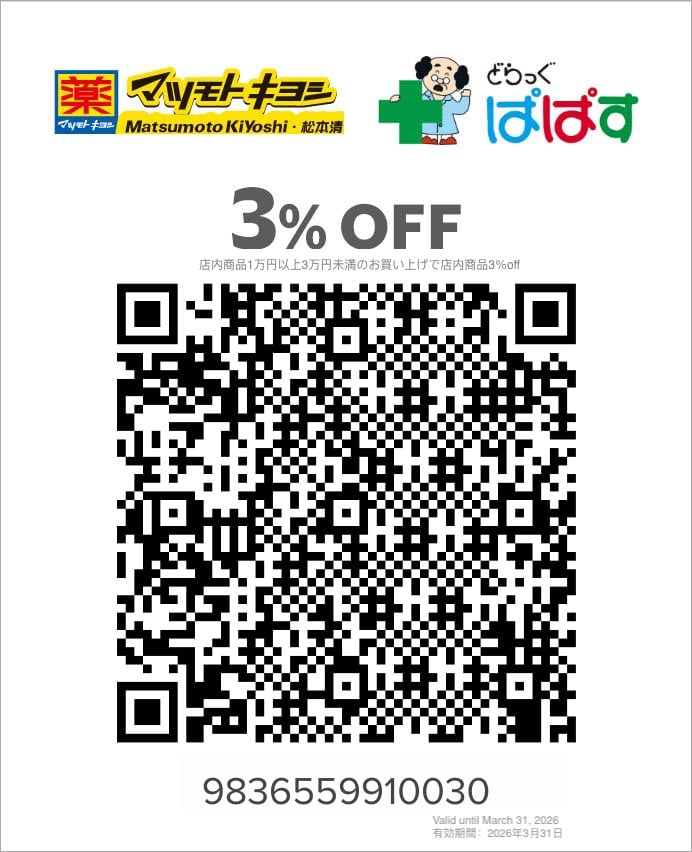 Spend JPY10,000 (with tax) or more to get a 3% discount
Offer period : 12/01/2023 - 12/31/2024
店内商品1万円以上3万円未満のお買い上げで 店内商品3%off
有効期限 : 12/01/2023 - 12/31/2024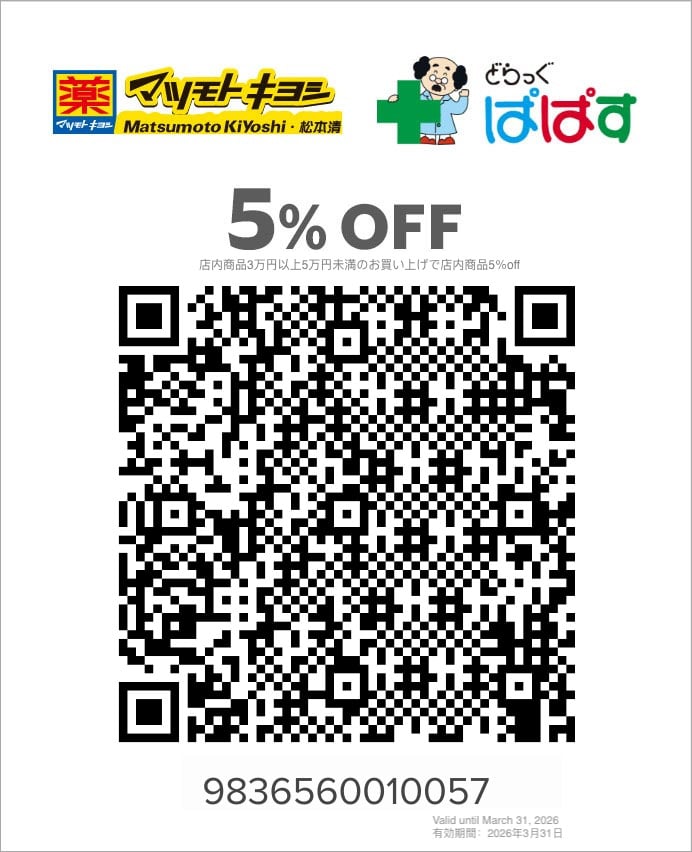 Spend JPY30,000 (with tax) or more to get a 5% discount
Offer period : 12/01/2023 - 12/31/2024
店内商品3万円以上5万円未満のお買い上げで 店内商品5%off
有効期限 : 12/01/2023 - 12/31/2024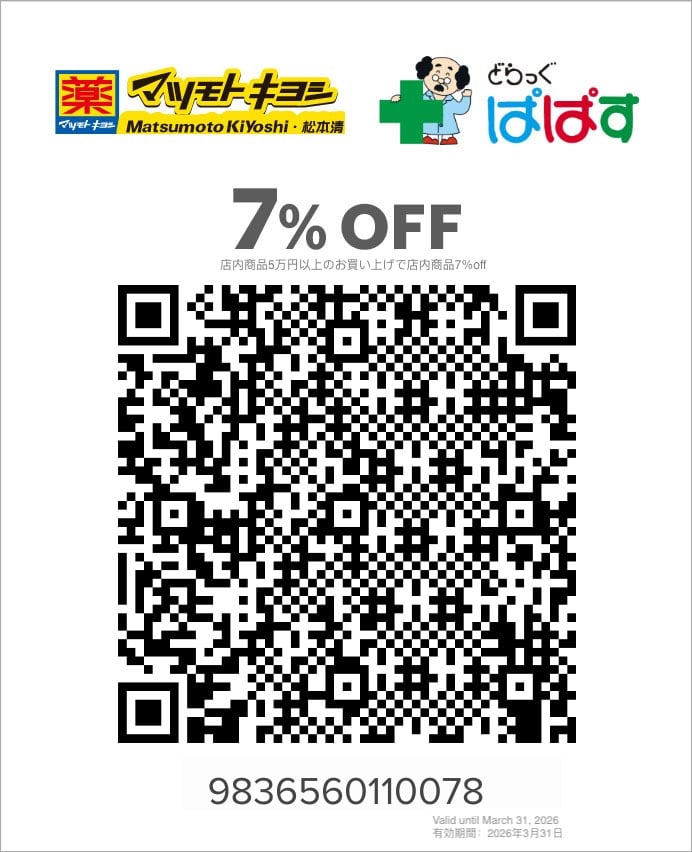 Spend JPY50,000 (with tax) or more to get a 7% discount
Offer period : 12/01/2023 - 12/31/2024
店内商品5万円以上のお買い上げで 店内商品7%off
有効期限 : 12/01/2023 - 12/31/2024